Name: Dark Knight
Age:100
Breed:Lizard Hippogryph
Alliance:neutral
Color:Red +Green
Markings:Big Patches of Red on the green +Yellow eyes.
Personality:likes to kickback and relaxe at his cave and have to not watch his little sister Thunder Heart.
If you mess with him he'll turn you into dog food!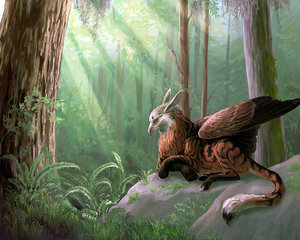 Name: Thunder Heart
Age:12
Breed:Tiger Hippogryph
Alliance:neutral
Color: Orange +black+White and brown
Markings: White Bunny like ears, Tiger Markings on her Body, White head area,Brown Legs and brown + black wings.
Personality:Hates being with Knight(knight short for Dark Knight.)Always wants to be with her mom witch left her with her brother and her dad died in war a couple years ago.Shes sweet cant hurt a fly type personality but when it comes to war shes a totally diffrent Hippogryph.